Grade 9
Freshmen - Setting Sights on College!
Welcome to the Crosby Scholars High School Program!
Preparing for college starts now!
Decisions you make in 9th grade matter
Classes in which you enroll in 9th grade matter
Grades you achieve in 9th grade matter!
As a Crosby Scholar, you have made the decision to prepare for college enrollment. We want to help you achieve this goal. Involve your family as your support system, and get to know your high school counselor.
Students interested in enrolling in the Program may apply online at the beginning of the school year.
Scholars who completed the Program in 8th grade are automatically enrolled in the Program freshman year at the high school they choose to attend.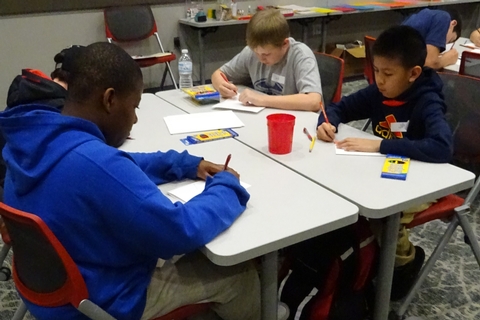 Academy

COVID-19 Update- online academies are being offered for the 2020-2021 school year. Please email kmontgomery@crosbyscholarsiredell.org, High School Program Coordinator with questions.

The Crosby Scholars Academy offers students academic and personal development workshops on a variety of skill enhancement topics that support student achievement and college planning.

Freshmen and Sophomores are required to attend one Crosby Scholars Academy offered in the summer, fall or early winter. Scholars must register to attend an academy session through their Crosby Scholars student portal.

Students can select from a number of sessions that include:

Workforce Trends
Career Choice and Personality
Time Management
Study Skills
College Admissions
Learn to Memorize
Hello High School
Financial Literacy
Engineering 
Healthcare Careers

Scholars choose 2 topics from those offered during a Crosby Scholar Academy. Academies are typically offered on Saturday mornings from 10:00 a.m. until noon. Usually, they are held at one of the Mitchell Community College Campuses or at the Goodwill Career Connections Center in Statesville, N.C.

Parents please note by allowing your student(s) to attend the Crosby Scholars Academy, you are agreeing to the terms of the Parent Partnership Agreement located in your student's portal.  This agreement will remain in effect for the duration of your student's participation in the program.  Should you not agree with these terms, you are required to contact the Executive Director at swegmiller@crosbyscholarsiredell.org before allowing your student to attend the Crosby Scholars Academy. Once your student attends the Academy, the agreement is in effect until the student voluntarily withdraws from the program or does not fulfill a program requirement.

Community Service

Crosby Scholars are required to complete two hours of community service every school year, although five are recommended.

Click here to access the form and learn how to turn it in.

*Head to the community service page in the link above to read how COVID-19 has affected this requirement.

Scholars must submit their form documenting their hours that includes a signature of the person in charge of the service activity by the deadline noted above.

Crosby Club Program

Click here to visit the Crosby Club page on the website

COVID-19 Update: The Crosby Club Program went virtual this school year. In spring of 2021, High School Program Coordinator will offer live zoom sessions for all students. If visitors are welcomed back on school grounds, classroom sessions will take place.

Crosby Club Program (formerly known as Grade Advisor Program) helps underclassmen begin preparing for their post-secondary goals.

Topics discussed at Crosby Club meetings help prepare scholars personally, financially, and academically for post-secondary success.
The Crosby Club Program was established to offer underclassmen the opportunity to meet with an advisor in a group setting
These meetings are group meetings and therefore are not rescheduled unless school is closed or after-school activities are canceled.
Meetings are held monthly beginning in January. Some schools begin having their meetings in the fall semester
Meetings are held most often during smart lunch or after school, at school, and last approximately 30-40 minutes. This is at the discretion of the high school.
Attendance is taken at each meeting and is recorded in our office
We strongly encourage students to attend as many meetings as possible!

Contact Kristen Montgomery, High School Program Coordinator with additional questions related to the Crosby Club Program.