Video not specified. Please select one to display.
Who We Are
What is Crosby Scholars?
Our vision--College opportunities for every student. We define college broadly: two-year, four-year, certificate programs or most any kind of training that happens beyond high school!
Our mission--Inspiring success...together. We partner with many other community groups and organizations to provide support and resources to our students. We rely on our community to help us accomplish this important work.
Core values--As we go about our daily work, we strive to model these values. By doing so, we hope that when students graduate as Crosby Scholars, they will have instilled these values and use them as a way to guide their own decisions and behaviors. These five core values/characteristics include: Accountability, Respectfulness, Service, Trustworthiness, and Supportiveness.
Crosby Scholars is a free program!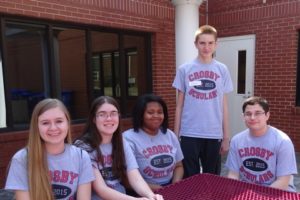 Beginning as early as sixth grade, Crosby Scholars offers programming to assist students and their families as they start on the path to future success in the workforce.  Our goal for each Scholar is to have a plan as a high school graduate that will allow them to seamlessly take the next step toward their career goal.  Although they may not be certain of a lifelong career path at graduation, we strive to have them ready for the first "next step".
Now beginning our 5th year serving Iredell County with academic training, financial aid and college application workshops, advisory services, and college tours, we have had more than 4,000 participants enrolled in the program.  Currently our enrollments tops 2,200 students.