Volunteer
The opportunities to volunteer change throughout the year.
Senior Advisors work individually with Scholars to navigate the college admission process.
Advisors meet with Senior Scholars beginning in the spring of junior year and again during the summer between Jr & Sr year.  Crosby Scholars looks for a minimum of 4 advisor meetings with each student.  However, this is an individual process based on student needs, so some students may ask for meetings to continue as longer than that if they still need help.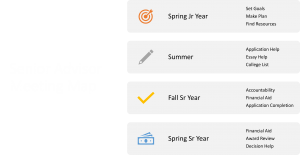 If you are interested in being a Senior Advisor please complete and submit the documents below. 
In January, we recruit volunteers to serve as Senior Advisors for the next school year.  A background in school counseling or college admissions is helpful.
Please contact Jenniffer Jamison if you are interested in this opportunity.
Essay Readers
The hours for essay readers are very flexible. In the fall of each year, high school seniors complete their applications for college admissions. Many students need the eyes of an adult to read their college essays -  an important part of the admissions application process.
These volunteers read essays and provide feedback within a week. 
Essay readers remain anonymous as the volunteer task is by e-mail, only.
You can also volunteer to help with registration at academies, represent Crosby Scholars at a school's open house, and different jobs that help our program run smoothly.