Program Overview
The Crosby Scholars Program is a unique college access program for middle and high school students enrolled in public schools in Iredell County.
The Program prepares students:
personally
academically
financially
for successful college enrollment
for a post-secondary plan that fits with their goals, interests, and ambitions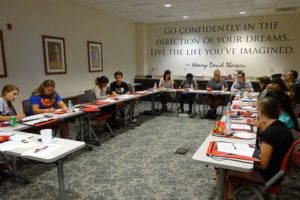 Students also:
volunteer in the community
agree to remain drug-free
obey school rules and regulations
Program applications are available each year to students in grades 6-10. Students attending Iredell County public schools in middle school through tenth are accepted into the Program upon application. Our vision: college opportunities for every student.
Requirements

Requirements of the Crosby Scholars program vary by grade level, however all include:

being enrolled in a public middle or high school in Iredell County
abiding by the terms of the Partnership Agreement by demonstrating good citizenship
attending one Crosby Scholar Academy each school year (two during the senior year)
 
completing and documenting a minimum of two hours of community service each school year by submitting a Crosby Scholars community service form by the yearly deadline - Click Here for a fillable 2020-21 form 
following all school rules and refraining from being placed in out-of-school suspension
speaking with four college reps by attending a college fair (sophomores through seniors only) or by visiting four college campuses and submitting a college fair/college visit form
participating in other mandatory requirements as assigned by grade level especially during the senior year
 

Participants of Crosby Scholars are given the responsibility to:

make education a priority in life by striving to maintain at least a 2.0 GPA (minimum) in order to complete High School and enroll in a post-secondary institution
contribute to a cooperative school environment by being courteous, considerate, and respectful toward teachers, school officials, adults and fellow classmates capitalize academic assistance provided by parents, school, community and the Program
develop leadership skills through active involvement in school and the community
strive for perfect attendance and avoid unexcused absences
not participate in any form of bullying - verbal, physical or cyber
obey the law and remain drug free, by agreeing to refuse to make, sell, use, distribute, or possess illegal drugs

Crosby Meeting Explanation Printable ChartPrintable Chart

Benefits

There are many reasons why students should be a Crosby Scholar:

The Program helps students understand and plan for the college admission, financial aid, and scholarship process.
Each year, students are introduced to workshops, topics, and discussions that help them to better understand and prepare for the college search and college admission process.
Crosby Scholars receive timelines and newsletters, attend Crosby Scholar Academies, and participate in community service.
During their senior year, Crosby Scholars also receive one-on-one assistance with the college admission and financial aid process.
The Program assists students in navigating the ever changing and challenging world of college admissions.
Each school has a counselor in the Student Services (Guidance) office who serves as the Crosby Scholar liaison for that particular school.