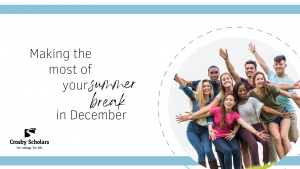 I know it is December, but I have been thinking A LOT about next summer. What do you do during the summer? Family Vacation? Summer School? As a kid I just thought when summer arrived activities and plans just appeared. Instead of getting on the bus to go to school, I got on a bus to go to camp. It was seamless. I did not realize 2 things when I was younger that are vital pieces of information.
1. My parents planned summer and sometimes applied and registered for camps in January.
2. I only have so many summers before I am an adult and guess what, Adults don't get 12 weeks off for summer break.
The later was devastating. Since time is tight, I like to dream and plan for what is next. This week I received an email from Wake Forest University advertising their Summer Immersion program. I always thought these programs were for juniors and seniors. I was wrong. Students as young as current 9th graders can participate. With that little bit of information, I started researching, what else can my current 9th grade daughter do this summer?
Benefits to Summer Activities
Discover YOU – Summer is a great time to try NEW things. Take time and opportunities to discover what you do well. Learn what you don't like. Are you interested in being a teacher? Spend the summer working with kids as a coach or counselor. You will learn very quickly if you want to work with kids every day as a career. Are you interested in being a nurse, volunteer at a hospital or enroll in a healthcare camp.
Network with Adults – Most students have a small circle. Family, friends, teachers coaches. Participating in different activities during the summer can help you meet other adults and community members that can share their experience and act as a mentor to help you in the future.
Build Experience and Activities Resume – Whether you are going straight to the workforce or to college you need to start building experience. Everything you do at a job or in a volunteer capacity can be used to help get you access to that first job or admission to your dream college. You can also write about your experiences in college admission and scholarship essays during your senior year.
Today, let's look at summer through the lens of a high school student. If you are in 9th grade you have 4 summers before you go off to college. And you only have 3 summers to build experiences and explore interests and schools. That seems like a lifetime and a blink of an eye all at the same time.
Usually, students start thinking about college when they are in 11th grade. By then you only have one summer to participate in experiences that might have an impact on your college application. I am here today to encourage all high school students to plan their summers like they plan their schedule.
Steps to the Process
Explore Opportunities and Experiences – Research is key, and Google is your Friend. Use Key Word search and be sure to narrow for your state. Example – College Camps for High School Students in North Carolina. Other Key Words "Summer Immersion" "Pre-College Programs" "Camps for High School" You can also use subject matter words to find specific programs. Example Music, Art, Theater, Engineering, Medicine, etc.
Looking for a Job? – Search specific companies or businesses in your area and click on career, jobs or join us. Sites like Indeed.com can also be helpful. Be sure to search for internships or part time jobs. You can search with keyword summer as well.
Search by Colleges of Interest – Make a list of all the colleges you are interested in and see what summer programs they have to offer.
Use some type of Organizational tool to track information – Be sure to document DATES, COST, FINANCIAL AID – If you see only information for last year, make note of when the application opened last year, 9 times out of 10 it will open the same time next year. Mark the page and go back to look for updates.
Talk to your Parents about Budget, Transportation, Family trips and events for timing and conflicts. You can narrow your search based on your family needs.
Plan and apply to participate – Be sure you read all the instructions very clearly for each opportunity. Some schools will have you create an account to apply. Most applications, even for jobs are online, but you want to know what you are committing to before you sign on the dotted line. Some applications are as simple as signing up, others require essays or questions to be answered. Some programs like Governors school can be selective. Make sure you understand your eligibility. Is it Invitation only? Do you have to be referred? Find out who can refer you and ask the appropriate people. NEVER list an adult to write a reference that you have not spoken to about it.
Below is a list of ideas for summer activities. There is something for everyone. I want you to view the list like an exciting opportunity to try something new, explore careers, visit college campuses, and build relationships with other students and adults that could influence your future.
Job/Work – Summer Jobs can be the best way to figure out what you want to do in the future and more importantly what you DON'T want to do in the future.

Volunteer/Service/Mission Trips Local Non-Profits –

Your School, Your Church, etc.

School Related Activities

, Enrichment Camps, Summer School, Classes at Mitchell Community College

College Related Activities
Summer Immersion, online & on campus camps, college experience
This is not meant to be overwhelming. Your future is a blank canvas. Go experience sights and sounds and views to help you start painting on the canvas. If you need any help or have any questions, please reach out to a Crosby Scholars Staff member. We would love to help you. www.crosbyscholarsiredell.org