Many students and parents are confused about Career and Technical Education (CTE) and whether it's a path they should choose.
Below is an excerpt from the NC Department of Public Instruction Website that explains more about the goals and outcomes of these pathways:
The mission of Career and Technical Education (CTE) is to empower all students to be successful citizens, workers, and leaders in a global economy. CTE gives purpose to learning by emphasizing real-world skills and practical knowledge.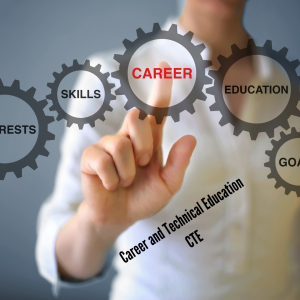 Programs in Career and Technical Education are designed to contribute to the broad educational achievement of students, including basic skills such as reading, writing, and mathematics, as well as their ability to work independently and as part of a team, think creatively, solve problems, and utilize technology. These tools and experiences make school more relevant, and ensure students are ready for the real world. Whether students plan to further their education in community colleges, technical schools, four-year colleges, and universities, receive on-the-job training, or pursue careers in the military, CTE can be the first step in a pathway toward productive employment and citizenship.
CTE Delivers for students:
Real options for students for college and rewarding careers
CTE programs allow students to explore a range of options for their future – inside and outside of the classroom.
Through CTE, students can start their path toward a career that they are passionate about while earning valuable experience, college credits and more.
CTE students are more likely to have a post-high school plan – including college – than other students; just 2% of CTE students say they "don't know" what they will do after high school.
Real-world skills for students
CTE is a unique opportunity for hands-on learning – putting students at the center of the action.
Students in CTE programs and their parents are three times as likely to report they are "very satisfied" with their and their children's ability to learn real-world skills as part of their current education compared to parents and students not involved in CTE.
Real middle and high school experience with more value for students
CTE programs are a part of middle and high school – students can participate in CTE and the other activities they enjoy, such as sports, the arts, or whatever else their friends are doing.
CTE takes students even further during their high school experience – providing opportunities for specialized classes, internships, and networking with members of the community.
Students in CTE programs and their parents are twice as likely to report they are "very satisfied" with their high school education experience compared to prospective CTE students and their parents.
People commonly think that a student should choose EITHER CTE OR college, but it doesn't have to be one or the other. It can be both!
For example, students who want to pursue a nursing career are well served by completing CNA training as part of a CTE pathway. Some nursing degree programs (including Mitchell Community College) require it for admission to the RN program.
As another example, students wanting to major in graphic design might consider a CTE pathway that includes learning how to use Adobe software such as Illustrator and Photoshop. Undergraduates have found that when they started a 4-year design program, professors expected that students already knew how to use the software. Students had to learn it on their own (while keeping up with assigned classwork) if they didn't know how to use it prior to coming to the university campus.
So, explore your options. It might be worth your while to consider a CTE course even if it doesn't add an extra .5 point to your GPA! It might be well worth it in the long run.