Hi guys! My name is Ashley Scott, I'm your new Middle School Coordinator. I'm excited to join Crosby Scholars and I can't wait to meet everyone. What attracted me to this position was that I would have the opportunity to help students prepare for college and give positive advice from my college experience. The Crosby Scholars program is important for students because they learn so many great things. Students become more involved in the community, their school and their studies. They are able to learn about the different options to pay for college and the many career paths.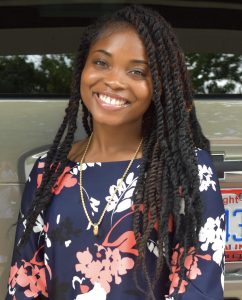 I'm a North Carolina native and I graduated from Statesville High School, go Greyhounds! I received my Bachelor of Arts degree from The University of North Carolina at Greensboro and my Master's in Communication from Morehead State University.
In my free time I enjoy being outdoors, riding my dirt-bike, walking my dogs and playing basketball. So if anyone wants to play one-on-one, this is your official challenge. 🙂
My passion has always been to help and create a positive environment. I enjoy lending a helping hand wherever it is needed. I can't wait to see how I can help contribute to Crosby Scholars and the amazing Middle School students.