Meet online with a staff member to learn more about the program. This meeting is open to new and returning Crosby Scholars and parents. See below for meeting dates!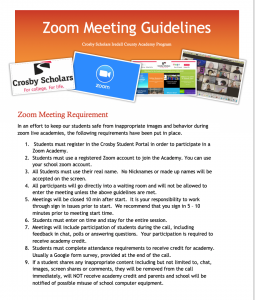 September 21, 2020, at 4:00 PM
October 1, 2020, at 6 PM
October 6, 2020, at 6 PM
Please register in the Student/Parent Portal in order to receive the link to join the meeting. Each meeting covers the same information--choose a time that's convenient for you!