11/15/2018
STATESVILLE FREE NEWS
FROM STAFF REPORTS
The Iredell County Community Foundation awarded more than $127,700 to seven nonprofits in 2018.
The nonprofits' service to the community were recognized during a reception at The Sharpe House on Wednesday, November 14.
Since 1989, the Iredell County Community Foundation has been committed to inspiring philanthropy and increasing charitable giving in our community. The foundation has awarded 251 grants totaling nearly $2 million to organizations in or benefitting Iredell County.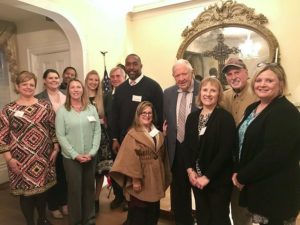 "We are very proud of the grant-making support we have been fortunate enough to provide to local nonprofits, but each year we are mindful that the needs in our county surpass the funds we have to award," said Dr. Ralph Bentley, chairman of the foundation's board.
This year the foundation board continued a match partnership with Foundation For The Carolinas (FFTC) known as Give, Grant, Grow Iredell. Contributions from past and present board members were matched by FFTC, which added nearly $15,000 to grant funds.
In response to the current needs in our community, the foundation board focused on workforce development and literacy for children ages 5 to 10.
"The board understands that local grant-making is the heart and soul of our work, and accordingly, we devote significant time to reviewing and discussing the grant applications," said David Green, the board's vice chairman.
2018 GRANTEES
The following nonprofits received grants from the Iredell County Community Foundationin 2018:
Hospice and Palliative Care of Iredell County was awarded $20,000 for Rainbow Kidz, a free, in-school support group to help children cope with loss.
ICARE was awarded $25,000 to provide workforce development opportunities for unemployed individuals 18 and older.
Iredell County Crosby Scholars Community Partnership was awarded $13,200 to offer high-quality career exploration tools to students.
Iredell-Statesville Schools was awarded $36,000 to provide new books in classrooms and libraries.
Mitchell Community College was awarded $25,000 to create a recruitment toolkit for school counselors.
North Carolina Symphony Society was awarded $3,500 to perform a curriculum-based music education concert for students during the 2018-2019 school year.
Piedmont Veterans Assistance Council $5,000 was awarded $5,000 to feed, house and transport homeless veterans in Iredell County.
The foundation's future efforts will be enhanced in the future by a gift from the Estate of Gen. William Lackey, a former board member and Statesville native.
"Beginning next year, this gift will add to the grant-making funds our board has to award each year, and will continue to do so for years to come, and we are grateful for the service and the generosity of Gen. Lackey," Bentley said.
2018 BOARD OF TRUSTEES
Ralph Bentley, Chair
David Green, Vice Chair
Jim Ashburn, Immediate Past Chair
Ann Kelly
Costi Kutteh
Doug McCracken
Lauren Millovitsch
Larry Rogers
John Schaefer
Rhyne Scott
Devon Stamey
Jim Staples
Marian Steele
Sara Tice
William Troutman
Julia Wilson
Dorothy Woodard